G-Force X Weight Gauge (cross weight gauge)
In the RC setting theory of the actual vehicle!
Throw it to hand the overwhelming advantage!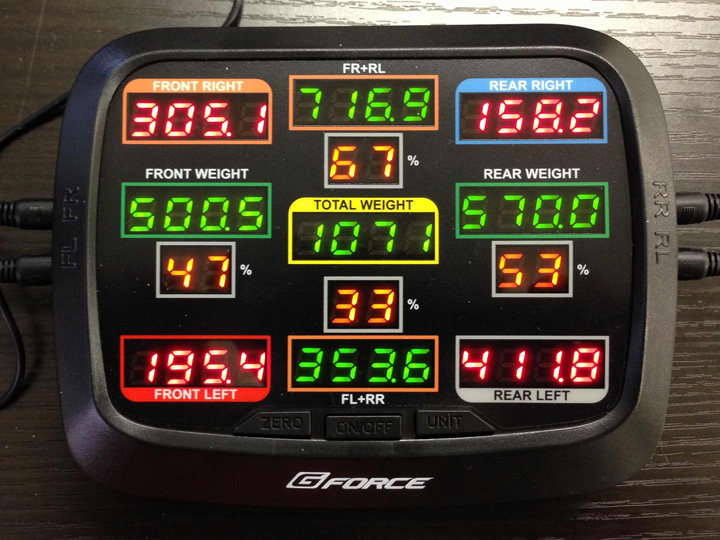 The faithful reproduction of the setting method of the actual vehicle race!

1 shot displays the ratio of the right front left rear load + load]: [Left Front load + right rear load]!

Setting of corner weights go perfect!

View the contents of the six items before and after total weight ratio, and each wheel weight, and others!

Can be checked in real time weight distribution caused by the movement of the parts and mechanical!

Weight scale is OK up to 2000g per one!

I can also be used in car engine.

The big advantage in the two-wheel drive drift load is say a thing!

Cornering sense of right and left ready, linearity of the machine is significantly UP!

!
Product Specifications
| | |
| --- | --- |
| Measurable weight | 2000g or less (per one weight scale 1) |
| Measuring error | ± 0.5g |
| Power | 4 AA batteries (not included) or DC6-13.8V |
| Main unit size | 130.4 x 104.5 x 35.3 (mm) |
| Weight scale size | 59.1 x 65.1 x 17.5 (mm) |
| Body weight (including weight scale) | 354g |
---